Large Whipped Jasmine & Hibiscus Body Butter 8 Fl. Oz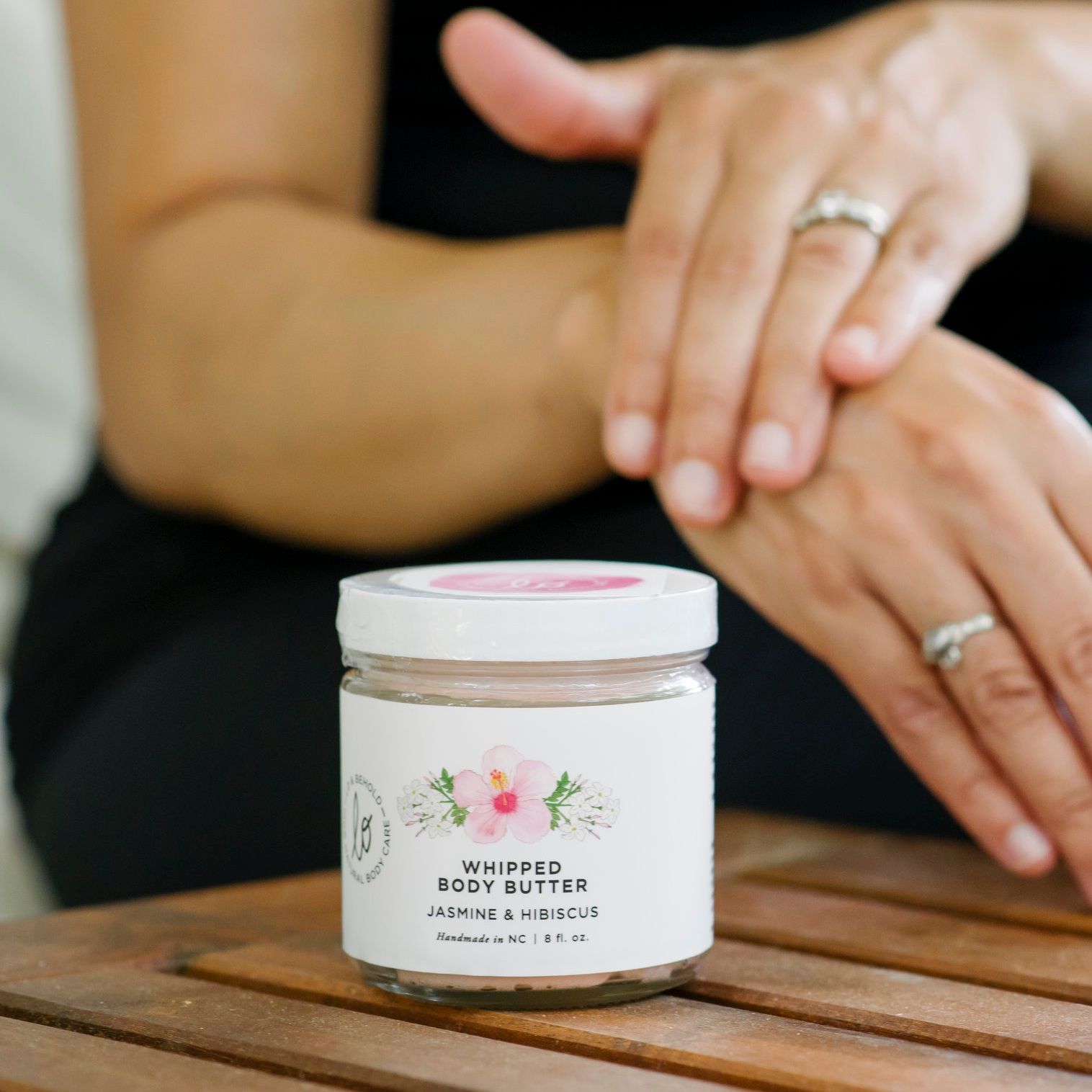 Large Whipped Jasmine & Hibiscus Body Butter 8 Fl. Oz
Our best selling whipped Body Butters are heat sensitive, so every year we stop shipping them from Mid April- September. The heat doesn't affect the effectiveness of the formula, but high temperatures can melt the luxurious texture into more of a mousse than whipped cream.
The body butters are available all spring and summer through our retail partners and at local markets, but we do not sell them online during hot months.
The Jasmine & Hibiscus Body Butter is a nourishing and luxurious, all-over body moisturizer with an exquisite floral aroma and a hint of citrus. Its formula is gentle enough for the face and for sensitive skin.
By hand, we infuse coconut oil with organic hibiscus - for high levels of beautifying vitamin C - and combine it with rich botanical butters and oils, whipping and tempering for hours, to create an exceptionally fluffy texture. This irresistible butter absorbs evenly and quickly, easily melting into your skin. Each ingredient is selected to replenish and repair dry skin for smooth and silky hydration that lasts.
Coconut oil deeply penetrates skin and provides essential nutrients and vitamins. The unrefined oil adds a natural coconut aroma.
Kokum butter is deeply healing, intensely moisturizing, and adds an extra rich texture.

Shea butter, with healing and strengthening properties, is a superfood for your skin.

Mango butter is rich in vitamins C, A, and E, as well as fatty acids. Its smooth, non-greasy texture is ideal for our formula.

Rice bran oil is rich in fatty acids, minerals, vitamins, proteins, and antioxidants that hydrate and soothe. It is highly hypoallergenic.

Vitamin E is packed with antioxidants, has collagen producing properties, aids in scar tissue prevention, and heals damaged skin.

Hibiscus flowers from what is referred to as "the Botox plant" because of its alpha hydroxy acids and vitamin C that gently exfoliate and firm skin while encouraging cell turnover. The high levels of vitamin C brighten and even skin tone.

Jasmine oil adds an exotic, fragrant, and floral aroma, has an uplifting effect, and actually moisturizes skin. Grapefruit essential oil adds more vitamin C to the formula, and lends a clean citrus smell.
Free product sample with every purchase.
sold out
TO USE
For the softest, smoothest skin, massage a small amount onto the body.
The Jasmine & Hibiscus Body Butter is highly beneficial for all skin types, but is especially popular for sensitive skin and those suffering from skin conditions like eczema.
This product is sensitive to high heat. To maintain whipped texture, store indoors in a cool place, and out of direct sunlight.
Packaged in a 8 oz. glass jar.
100% NATURAL • VEGAN • CRUELTY FREE • GLUTEN FREE
NO: Parabens, sulfates, petroleum, artificial fragrances, or preservatives.
INGREDIENTS
Mango butter, rice bran oil, unrefined coconut oil* hand infused with hibiscus flowers* and alkanet root, fair trade and unrefined shea butter*, kokum butter, arrowroot powder*, vitamin E and essential oils of: jasmine and pink grapefruit. *Certified Organic